DiceAFARI™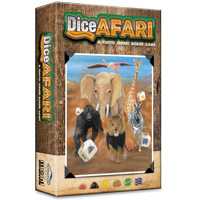 Contents
18 Game Tiles
5 Custom Dice
14 Map Cards
28 Photo Tokens
72 Player Tokens
Instructions
You and your friends are going on a photo safari! To see as many animals as possible, you will have to plan your trip well. Whoever visits the most areas and takes the best photographs will be the safari champion!
---
Game Summary:
Select a route to visit on the animal-shaped map using strategic dice rolls. But choose wisely, because routes are limited and other players can revisit the areas you select. Then take a photo of an animal that you see before someone else does. Once the entire map has been visited, points are scored for sets of photos taken and the areas most recently visited. The player with the most points wins!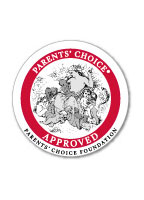 "Light, flexible, customizable, and accessible, DiceAFARI is a fun game that will challenge and entertain."
"DiceAFARI is a great addition to any family's game collection. It's fast and fun, with just the right amount of strategy."
"[DiceAFARI has] replayability, just enough randomness....strategy, easy to learn, interesting choices, cute theme and great art."
"DiceAFARI fits my family perfectly. It is a straight-forward game with mechanics that allow play to move quickly."
"DiceAFARI is a very good game for families...[it] does a great job of introducing both area control and set collection."
"DiceAFARI will be a good addition to the fun family board games that Stratus Games publishes."
"There's a lot to love about the DiceAFARI package."
Details
Item #
STT 3423
Weight
0.75 lb
Dimensions
9.25 x 6.25 x 1.75 in
UPC
8-55059-00203-7
ISBN
978-0-9844509-3-0
Game Design
Chris James
Graphic Design and Illustration
Darrell Louder & Brian Elligson
Files
English rules
diceafari_rules.pdf (4.74 MB)
Sell sheet
diceafari_sell_sheet.pdf (1.43 MB)
Links
Newsletter
News straight to your inbox!