Launch Pad™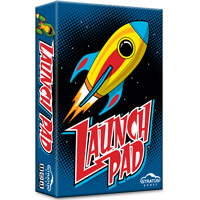 Contents
140 game cards
4 reference cards
Instruction booklet
The space race is on!
You are battling to build the biggest, baddest rockets possible and send them soaring into space. Each rocket requires metal, fuel, and the expertise needed for liftoff. As you build your rockets, beware of your opponents, who are eager to steal your goods and sabotage your work—you may even have some tricks of your own to thwart their progress.
All the while, the launch pad is being constructed—as soon as it's ready, the rockets that are "go" for launch will blast off into space, leaving all others behind.
Do you have what it takes to make your rockets soar before it's too late?
---
Game Summary:
Build as many rockets as you can and ready them for launch by advancing them through three phases of construction
Collect Bonus cards to protect your rockets, man them with astronauts, and ensure quality production
Sabotage other players' rockets and steal their goods through the clever use of Action cards
Once the launch pad is constructed, the rockets that are ready for launch will score big points!
"Great theme, fast-paced, and highly competitive...I had a blast playing this game."
"A fantastic card game with a great theme, excellent mechanics, and accessible to all three geek groups. Outstanding!"
"The gameplay is surprisingly intuitive...the artwork, card design and typography are superb...this game is a lot of fun."
"Fun and definitely challenging."
"A very good game for a younger target, without excluding or sacrificing the enjoyment for the mature or seasoned gamer."
"A light, fun, quick card game."