Eruption Giveaway Contest
Submitted on September 08, 2011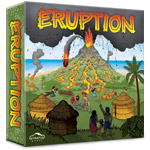 This is the first ever giveaway contest for Stratus Games' newest board game, Eruption. Eruption is a family strategy game featuring survival, cutthroat competition, and a score-balancing mechanism to keep everyone in the game.
The contest winner will receive one of the first copies ever made! The prize will be shipped along with the games purchased through the preorder program.
Prize: Eruption

Dates: Now until September 23 at 10:00 PM MST

Rules: Answer a survey containing 10 easy trivia questions about Eruption. Each correct answer will earn an entry in the contest! In addition, you can earn extra entries by referring your friends and interacting on Facebook and Twitter. The winner will be selected randomly from all of the valid entries.

Update: This contest has expired. Congratulations to Jennifer Smith, the winner of the contest!