Off Your Rocker™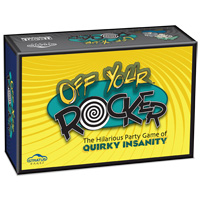 Contents
200 Quirk Cards
40 Point Cards
1 Sand Timer
Instructions

You need a psychiatrist! You and the rest of the group all share a quirky problem that is interfering with your lives, so you have gathered together and invited a psychiatrist to figure out what's wrong. Will the psychiatrist be able to diagnose the problem, or will he end up just as crazy as you?
If you like improv comedy, you'll love Off Your Rocker! The patients choose a quirk they will all portray and the psychiatrist asks questions to try to discover what the quirk is. If the psychiatrist guesses correctly within the time limit he scores a point and the players with the most clever or funny answers also score points. The first player to reach 6 points wins!
"One of the best party games I have played in a long time, one that made me laugh out loud consistently."
"This is that rare party game that combines zany interactivity with a solid yet simple mechanical structure...it's a lot of fun."
- Wired Magazine's GeekDad Blog
"If you are looking for an energetic and entertaining party game, you can't go wrong with Off Your Rocker."
"A high-energy, high-creativity game...those who love to get loose and end up in a laugh riot will love it."
"Every one of us [was] laughing hysterically. This is an A+++ in my book, Stratus Games hit it out of the park."
"Off Your Rocker was a great deal of fun for us."
"We had a crazy good time with it...it works on a lot of levels and a lot of different ways."
"Great fun to play and my group enjoyed it...[the voting mechanic] is genius."
"If your game group is open to funny business and role playing, this will provide an almost endless supply of laughs."