Win a copy of Gold Mine!
Submitted on May 17, 2013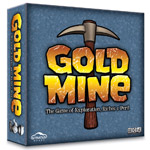 Stratus Games is giving away a free copy of Gold Mine in conjunction with our sister site, Casual Game Revolution. Gold Mine is the tile-laying game that started it all for Stratus Games (and, by extension, Casual Game Revolution). In Gold Mine, players take on the role of miners excavating a maze of mine tunnels and secret passages in search of gold nuggets. It may sound easy, but the other miners will stop at nothing to get their hands on the gold, even if they didn't find it first. The first player to collect the required number of gold nuggets and fight his way back to the mine entrance wins!
Use the giveaway form below to enter.