Gold Mine Giveaway Contest
Submitted on October 18, 2010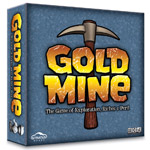 Win a free copy of Gold Mine!
To commemorate the amazing rescue of the 33 Chilean miners, we are giving away a free copy of Gold Mine! Gold Mine is a brand new tile-laying game where players control miners that excavate a mine, collect gold, and battle each other to get rich. Here is what the reviewers are saying so far:
"This easy and fun to play tile game was a hit at our end of summer cookout and game day" - Richard Martin-Leep, Greater Games Industry Catalog
"A really fun family game with good strategy and luck combined" - Board to Death TV
Here is how you can win a free copy:
1. Download the Gold Mine instructions
2. Choose a single word from the instructions
3. Post the word as a comment below
We have pre-selected the winning word from the Gold Mine instructions. The first person to guess the correct word will be the winner!
Since there are so many words to choose from, we will periodically provide hints on Facebook and Twitter to narrow down the possibilities (e.g., form of speech, frequency of occurrence, page number).
The most obvious of hints will be posted on Friday, November 5 at 7 PM MST. The winner will be announced on Friday, November 5 at 8 PM MST.
Each participant may guess once per day. Any subsequent entries by the same participant on the same day will be ignored.
We will ship the prize to anywhere in the world. However, please do not participate if your local laws prohibit you from doing so. Participants must be 18 or older.
Good luck!
Updates:
10/19 - Hint #1 posted on Facebook and Twitter
10/20 - Hint #2 posted
10/21 - Hint #3 posted
10/22 - Hint #4 posted
10/23 - Hint #5 posted
10/25 - Hint #6 posted
10/28 - Hint #7 posted
10/30 - Hint #8 posted
11/1 - Hint #9 posted
11/2 - Hint #10 posted
11/3 - Hint #11 posted
11/4 - Hint #12 posted
11/5 - Hint #13 posted
11/5 - The contest is over!
The winning word was "

surprise

" - congratulations to the contest winner, Kristi Frisk from Michigan!